We are on our way to the biggest and baddest Nitro race of the year. John Piant and I are full steam ahead to the Dirt Nitro Challenge at the Fear Farm in Phoenix, Arizona. It's been quite a long flight so far coming from Florida. It just seems for some reason we've been traveling too long already. Maybe it's just that we are arriving so early compared with other races where we have been flying in on a Thursday for Friday practice. It must be a big race when you are flying on a Tuesday.
I came to the race to debut JConcepts racing tires in 2007 and I was back in 2008 for a follow-up year. In 2007 we brought the Double Dees to the table in 1/10th truck which Maifield used to win the first time out. We also debuted a very small pin 1/8th buggy tire which was also the Double Dees. At the time there were no tires on the market with that small a pin so I'd say we brought something to the table during that event never seen before.
Fast forward to 2009 and Maifield wins in dramatic fashion over Tebo with only several laps to go in the Final. Ryan Cavalieri dominated in 2010 and Jared Tebo dominated in 2011. As you can see its the big 3 guys at the top of the field for the past 3 years so that should tell you something.
This race previously kicked off the new racing season but now that the Reedy race is back in January, this race now more so kicks off the nitro season.
Follow us this weekend as the JConcepts Racing Team hits the track at the Fear Farm. We have some new products and new drivers for 2012 and we hope to bring a little of everything to the blog this weekend. Stay tuned!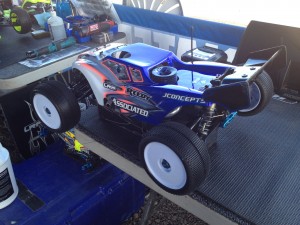 Jeremy Kortz and Tanner Denney got their e-buggies out there and got a feeling for what to expect in the buggy class. The breaking bumps and whoops are more of an issue with the buggies so guys will have to find that balance between vehicles. Its still amazing how much power the e-buggies have. Hybrids for Kortz and Crossbows for Tanner looked pretty good so we'll keep tweaking…
Things only get more difficult from here but there is some calm to the pits at the moment which is relaxing. Almost 530 entries on just the nitro side so we have some entry power this weekend here in Arizona.